Me At University
A Nightmare Vision of The Future
or
How Things Will Be When I Go To Uni*
Le Driver:
"Ah, look at all my free time, admire my well manicured eyebrows! I am posting something quite excellent on my blog. Federal politics, of course."
Le Driver:
"Shut-up guys. I'm thinking about my successful blog and savouring this Chai tea as I do so."
Le Driver:
"Fine, Proffesor, if
you
can't teach print journalism then I will! Here are the average number of words in a Herald Sun article. Count them while I blog."
Le Driver:
"Sell all the stock, you bastard! Sell, sell, sell! I don't have time for this. I have a blog to maintain."
Le Driver:
"You're hilarious. Let's go out, get tanked, update our slightly Buffy-esque clothing, and then blog about it!"
Professor to Le Driver
: "Now, I've gotta say, we weren't going to pass you, seeing as you completed none of the set coursework. But, hell, we loved your blog! Congrats, Le Driver, you've graduated with honors!"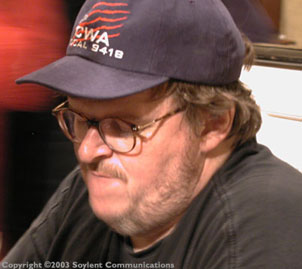 What my writing will do to Michael Moore in 10 years.**
* I like to think so.
** Prevent him from aging at all.